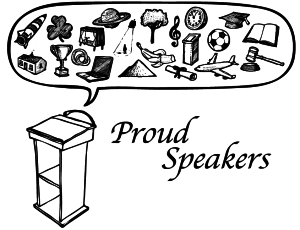 Public Speaking Courses
for Schools & Adult Education
School Courses
earz-plz! (Lend Me Your Ears) is a series of courses for students from 5th class to 5th year designed to improve young people's ability to speak confidently and listen effectively in formal situations and before groups. The course uses engaging and productive exercises and games with maximum fun.
Pilot schemes are being run in Westport (Rice College/Sacred Heart Schools) and Clifden (Clifden Community School). Our goal is to get into schools in every county–and then into every school–as a new and necessary tool for our emerging generation.
Adult Courses
"Speak Up, Speak Out!" is an 8-week public speaking course for adults. The emphasis is on confidence-building and fun while developing and improving communication and presentation skills.
Why? Increasingly, the world expects young people to be able to speak up and speak out. However, many teenagers spend much of their free time on social networks or playing computer games. Whether you plan to be a farmer or a coder, a filmmaker or an architect, you won't get far without being able to state clearly and persuasively what your goals are.
Both earz-plz! and "Speak Up, Speak Out!" give people the foundation for successful communication.
Outcomes
Students will learn to…
deliver prepared speeches
adjust to speaking without preparation
structure their ideas coherently
find the point in what people are saying
critique usefully and constructively
learn to allocate roles and organise proceedings
The courses are directed by Joe Ring (former President, Westport Toastmasters Club) 086 603 7744 & Fiona Keane MFA PGDE (SixPens.com workshops) 087 763 4339 or fiona@sixpens.com